Classic Spidey fans should be pleased (maybe some more than others) with the cover of the just announced third printing of ASM700.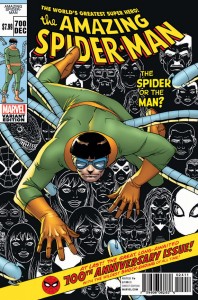 Personally I'll always have a soft spot for the bloated, white suit wearing Doc Ock from the '90s. Whatever look you prefer for the villain though, that green lab outfit is pretty iconic.
The "Superior" third printing of Amazing Spider-Man #700, which is the controversial last issue of the book by the way, features an amazing (ahem) cover by the spectacular (double ahem) Giuseppe Camuncoli.
Inside the book, you'll still find the same landmark story by Dan Slott and Humberto Ramos that was released into stores a few months back. And however you feel about the ultimate (?) fate of both Spider-Man and Doctor Octopus, this is without a doubt one of the most pivotal and important Spidey tales in the history of the character.
You'll get your third chance to grab Amazing Spider-Man #700 when the third printing hits stands on March 27th.
Continue Reading >>> Source link