Rogue One will be coming to Marvel Comics' Star Wars lineup after all, wth a six issue mini-series.
Rogue One: A Star Wars Comic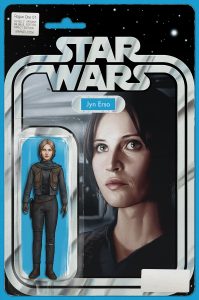 How'd you like Rogue One? Chances are, that if you're any sort of fan, that you liked it quite a lot. The film cleaned up at the box office and gave fans a good old fashioned Star Wars tale. How can you miss when you've got Stormtroopers, the Death Star, a badass Darth Vader scene, and even freaking Grand Moff Tarkin! It kinda hit all the high notes.
Oddly missing though, was a Marvel Comics adaptation. But since the publisher is owned by Lucasfilm owner Disney, you had to know that was coming. And… here we are.
Marvel has announced that a six issue mini-series is coming, which will retell the story of Rogue One, will hit stores courtesy of writer Jody Houser and artist Emilio Laiso. And if you're thinking that there's no reason to really read the series if you saw the film, well, think again. Apparently, there'll be a fair bit more than what you saw on screen.
"[Director] Gareth Edwards and Lucasfilm had a number of ideas for moments that didn't fit in the film that I'm working with," says writer Jody Houser in an interview with Marvel.com. "There are also some amazing moments in the novelization I want to incorporate. So it's really a mix of material from existing versions of the story, as well as new scenes."
Ready to go Rogue once again? Rogue One: A Star Wars Story #1 (of 6) hits stores and digital storefronts this April.
Continue Reading >>> Source link