The first collected editions of Marvel Comics' NOW! line of books will include digital copies of the entire tome starting with the upcoming All New X-Men hardcover.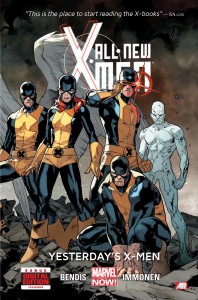 Marvel has really been on the forefront of the whole digital revolution in comics. While many other publishers have jumped on the bandwagon and platforms like (digital reading platform) comiXology are all that much stronger for it, Marvel continues to be a big promoter of both digital editions and augmented reality.
Furthering that effort are the first hardcover books to collect the initial runs of Marvel's revamped Marvel Now! titles. The company has announced that, not only will the books ship with the now expected AR features (including cover recaps and behind the scenes features), but they'll also come with complete digital editions.
"Marvel's committed to not only bringing fans the best comics with Marvel NOW! but to also bringing the best value, which is why we're the first publisher to include free digital copies with the first volumes of our top hardcover collections on this scale," said David Gabriel, SVP of Sales, Publishing & Digital Media, Marvel Entertainment. "We've seen an overwhelmingly positive response from retailers and fans to the digital codes included—at no cost—in many of our monthly comics and select graphic novels. The universal support and praise for this initiatives makes it clear that including these codes with our books drives customers into comic stores on a repeated basis."
Personally I'm a big fan of real world, tangible comics and graphic novel. That said, having digital copies at no extra charge is just plain nice- and having a digital copy of an entire hardcover (or softcover for that matter)? That's just awesome.
The spearhead book for the new line of hardcovers will be All-New X-Men Vol.1: Yesterday's X-Men, which'll be at retail in March. Not an X-Men fan? Don't worry, because the rest of the hardcover graphic novels planned for the remainder of the year will all be getting the same treatment.
There are no dates yet for these books, but if you want a sneak peek here's what's on tap for 2013:
ALL-NEW X-MEN VOL. 1: YESTERDAY'S X-MEN PREMIERE HC
AVENGERS VOL. 1: AVENGERS WORLD PREMIERE HC
CAPTAIN AMERICA VOL. 1: CASTAWAY IN DIMENSION Z BOOK 1 PREMIERE HC
GUARDIANS OF THE GALAXY VOL. 1 PREMIERE HC
INDESTRUCTIBLE HULK VOL. 1: AGENT OF S.H.I.E.L.D. PREMIERE HC
IRON MAN VOL. 1: BELIEVE PREMIERE HC
NEW AVENGERS VOL. 1: EVERYTHING DIES PREMIERE HC
NOVA VOL. 1 PREMIERE HC
SAVAGE WOLVERINE VOL. 1 PREMIERE HC
THOR: GOD OF THUNDER VOL. 1 – THE GOD BUTCHER PREMIERE HC
UNCANNY AVENGERS VOL. 1: THE RED SHADOW PREMIERE HC
UNCANNY X-MEN VOL. 1: REVOLUTION PREMIERE HC
Continue Reading >>> Source link