No, it's not more Marvel Zombies, this one is 100% original material and just might involve the grandaddy of modern zombie horror- George A. Romero.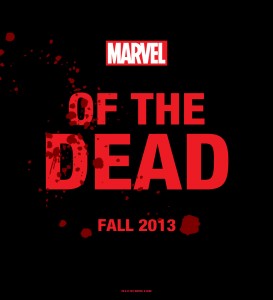 Marvel Comics released a super tease today in the form of the above image and… nothing else. Literally. I mean there wasn't even a paragraph with a little hint of just what Marvel of the Dead might be.
That however, didn't stop website Bleeding Cool from going back and digging up a little chat they had with Mr. Romero way back in October of last year (okay that really wasn't that long ago). Speaking to the pop culture site from a film festival in Sweden (of course, where else?) Romero told the pop culture site that he was working on a comic book for Marvel.
He went on to say that the plot was "secret", but that it would include none of the Marvel stable of superheroes and that it would be well stocked with zombies.
A straight-up horror book doesn't really sound like Marvel's cup of tea, but you never know. And when you have the chance to put something together with the film king of all things undead George Romero… well, that's not really a chance you pass up on now is it?
Marvel of the Dead, whatever it turns out to be, will be on store shelves this Fall.
Source: Bleeding Cool
Continue Reading >>> Source link