Does your local retailer qualify for a Party Kit from Marvel? If they do, then you'll be getting the chance to party down for the launch of Avengers: No Surrender.
ASSEMBLE
It's the end for the Avengers. Yes, again, stop it. This is all very dramatic, and Marvel is planning for launch parties to ring in the final adventure for their premier super-team (maybe).
The end of an "Avengers Era" (that says plenty right there), kicks off they January in Avengers #675's No Surrender. Brought to fans by the team of writers Mark Waid, Al Ewing, and Jim Zub and artists Pepe Larraz, Kim Jacinto, and Paco Madina, No Surrender will be a weekly affair.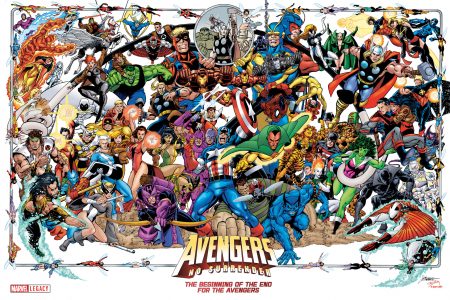 So yeah, it's kind of a big deal over at the House of Ideas. And to that end, there's gonna be launch parties.
If your local comics shop qualifies, they'll be receiving kits from Marvel that will include:
AVENGERS #675 Acuna Party Variant (OCT170807)
AVENGERS #675 Premiere Variant (OCT170808)
AVENGERS #675 Party Invitational Postcards (Bundle of 100) (OCT170806)
AVENGERS #675 George Perez Poster (Bundle of 25) (SEP178147)* – this reprint of a stunning 1990's Avengers poster continues the Marvel Legacy theme and features almost every Avenger in full 90's regalia!
Honestly? I wouldn't mind one of those posters. Perez is about as good as it gets with the Avengers. Love his work, and that shot is a classic in all the right ways.
But let's get back to the launch.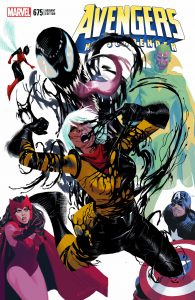 This is Marvel, so you bet there are variant issues that you'll get to buy. These are also dependent on whether or not your retailer "qualifies" to get them (based on purchases). Bottonm line, these variant editions probably won't be available everywhere, but your larger comics shops will probably have all of 'em.
Here's what'll be (most likely) on hand for the launch:
AVENGERS #675 Trading Card Variant by John Tyler Christopher
AVENGERS #675 Avengers Variant by Mike McKone
AVENGERS #675 Variant by Skottie Young
AVENGERS #675 Connecting Variant by Julian Totino Tedesco
AVENGERS #675 Variant by Alex Ross
AVENGERS #675 Sketch Variant by Alex Ross
Those are the particulars, well save one thing- the actual launch date. Mark it on your calendars folks, Avengers #675 lands in stores (complete with party trimmings) on January 10th, 2018.
Continue Reading >>> Source link