Miss out on the Dark Horse Comics-published Star Wars tales of the last few years? Well, you might get another shot at them.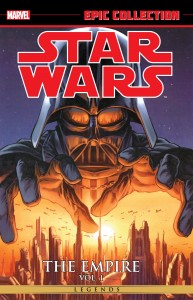 Very soon now Star Wars will be switching from Dark Horse, where it's 'lived' for quite a while now, and settling in at the original Star Wars comic book publisher at Marvel. We've already talked up Marvel's trio of new Star Wars books that they'll have on the shelves every month in 2015, but the publisher has also made something of a surprise announcement in that they'll be binding together volumes of classic Star Wars books into something called Epic Collections.
"We're thrilled to be bringing our innovative Epic Collections to a galaxy far, far away," says Marvel SVP Sales & Marketing David Gabriel. "We'll be bouncing around to different periods of Star Wars history with each Epic Collection, constructing one huge tapestry, collecting full unbroken runs of all the greatest Star Wars comics from the past 35 years."
The first volume of the new graphic novel series will be focusing on the period of time after Star Wars: Episode 3 – Revenge of the Sith and will bring together books like Star Wars: Republic 78-80, Star Wars: Purge 1, Star Wars: Purge — Seconds To Die 1, Star Wars: Purge — The Hidden Blade 1, Star Wars: Purge — The Tyrant's Fist 1-2, Star Wars: Darth Vader And The Lost Command 1-5, and Star Wars: Dark Times 1-5. That's a lot of Star Wars.
Also, while Marvel never mentions Dark Horse by name, you should definitely recognize the names of these comics from the publisher. It's an interesting setup, and one that pays homage to the history of the brand in the comic book world instead of simply severing ties with what had come previously. It also gives Marvel a hefty slate of Star Wars offerings right off the bat, instead of simply three new titles.
Look for the Epic Collections to start up in April 2015.
Continue Reading >>> Source link