2015 not only sees the Star Wars license go back to the House of Ideas for a round of new comics, but also for a re-issuance of the original comics from the '70s and '80s, in the form of 3 oversized hardcover books.
"When Star Wars took the world by storm in 1977, Marvel Comics was right there with exciting comic adaptations and new stories set in a galaxy far, far away," says Marvel SVP Sales & Marketing David Gabriel. "With new Star Wars comics being published by Marvel in 2015, we're proud to look back on this exciting remastered adaptation of the original film, with remastered adaptations of The Empire Strikes Back and Return of the Jedi coming later in 2015."
Now these are just plain cool. Marvel's trio of books that will republish the company's original Star Wars comics are set for 2015 and will be sporting oversized pages and 'remastered' color work. They'll also be fashioned into deluxe hardcover format, which is definitely a first for these comics, and they should look very nice indeed on the old library shelf. And these are some cool books too, with some stuff that you've probably never seen before.
It's not the best known fact, but Marvel's Star Wars comic line debuted before the first film even hit theaters. Yep, before. Marvel teased the newly acquired license with an image of Luke Skywalker and the words "Will he save the galaxy, or destroy it?" – plenty of melodrama right there. The comics also featured some scenes that were never included in the movies- yes, even in the newer editions with all the added stuff.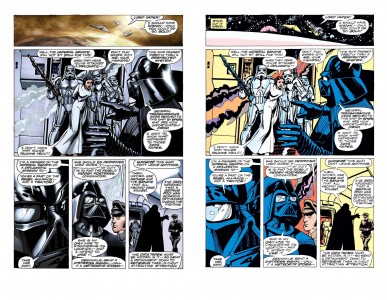 And though the interiors won't be touched here, an all-new cover by Adi Granov will grace the first edition, which is of course, A New Hope. This is one that you're not going to want to miss if you're a big Star Wars fan, in fact, you're not going to want to miss any of the three. While The Empire Strikes Back and Return of the Jedi don't have release dates just yet though, A New Hope will be available on the shelves of your favorite bookstore or local comics shop this coming May.
Continue Reading >>> Source link