Not starring Kevin Bacon, but still pretty awesome in its own right, the new expansion pack for Dying Light is one not to be missed by anyone who dreams of running down zombies with a dune buggy. And really, isn't that everyone?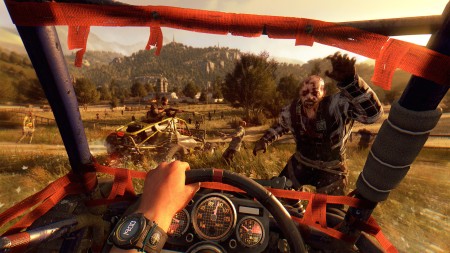 "For Dying Light: The Following we're adding a number of bold game-changers to create one massive expansion. Something big that will give the game a brand-new flavor. The new map alone is the same size as all the previous maps from Dying Light combined, so there is a lot we're packing in here.

We also kept a close eye on player feedback to help tailor what we've created here. Hopefully people will see that this new expansion is first and foremost, for the fans."
That's straight from Tymon Smektala, who's the producer for Dying Light: The Following. He's a man who knows his ravenous undead… and how to make them go 'squish'. And the term 'expansion pack' applies quite well to this one too, as Techland itself is calling The Following just that, so I'm not throwing it around without cause.
So here's the skinny, The Following is "a feature-heavy, story-based expansion pack." And it's one that adds in the buggy that you see being piloted in the screenshot above. For that alone, it'd be worth it, but with a brand new narrative, a massive playground that blows away the base game's, and lots more to do in the world of the infected that Dying Light has created, fans should find it doubly so. Or maybe triply.
No release date as of yet, but The Following will be shown off at GamesCom next month, and will then be "revealed" publicly shortly thereafter. You'll get it free as a part of the Season Pass too, which is pretty awesome given the scale of this thing, and it'll also be available as a separate purchase.
Continue Reading >>> Source link