McFarlane Toys' series of building sets continues to grow, adding the popular Cartoon Network show Steven Universe.
Building a Universe
With Game of Thrones and The Walking Dead already in its stable, McFarlane Toys' building set line is mighty impressive. And if you've seen any of these sets in person, then you know how great they are.
Not content to just be a construction set, like the other big brands, McFarlane's stuff tends to be a little more "complete looking". Whereas other lines might have unfinished edges, with pegs showing clearly, McFarlane's don't tolerate that. Instead they sport a finished look that makes them seem more like toys than something that you put together.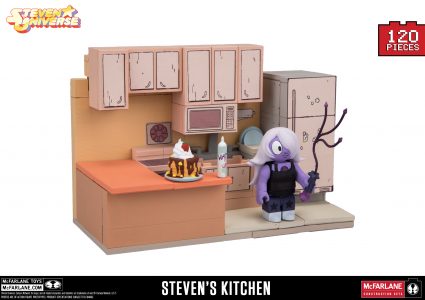 Now with Steven Universe in the fold, they've got a little something for everyone too. The kid-friendly property is a Cartoon Network favorite, kicking off in 2013 and running through the present.
McFarlane is going pretty big with the IP too, in this first wave of offerings, with a total of six sets hitting. These range from individual sets, starring just a single character from the show, to a vehicle and a playset.
The sets will run from $8.99 USD on the low end, up to $34.99 USD on the high. For now, they're available exclusively at Walmart, and they should be hitting shelves this month. Check out wave one in the gallery below.
Continue Reading >>> Source link