The latest company to take a stab at Game of Thrones is McFarlane Toys. The figures are in stores now, and looking like they might be the best yet.
A song of plastic and sculpts
No, McFarlane isn't the first toy company to offer Game of Thrones action figures. There have been a few, including Funko and Dark Horse, who made non-posable "figures", with varying results. What McFarlane has cooked up though, is looking great.
It's also pretty wide ranging, with a nicely selected first series, complete with a turned version of Viserion. Not that the former dragon is scale to the figures, but it's still kinda neat.
Based on the HBO TV show, the action figures themselves are 6″ in scale and sport a respectable 12 points of articulation. That reflects McFarlane's return to more posable figures, a great development. Good articulation and McFarlane-level sculpting? Yes, please.
Speaking of, McFarlane says that the figures all have "digital scans of the cast". Together with an effort to present the most iconic costumes worn by the characters, that should mean that fans will have some nice representations of George R.R. Martin's heroes and villains to add to their collections.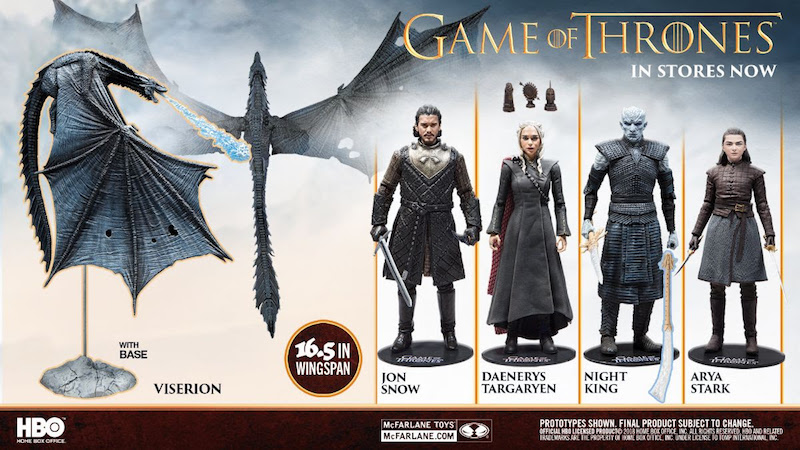 As for zombie-dragon-Viserion, he's in a class all his own. The ice dragon has 10 points of articulation and a wing span of 16.5″. Like the human figures, he comes with an accessory too – a spout of blue flame. In total Viserion clocks in at an impressive 9″ x 16.5″ x 10.5″. And as you can see, he's even got a cool (no pun intended) base.
You can find all of the above right now at  Wal-Mart, Target, Amazon, and "specialty retailers".
Continue Reading >>> Source link