Dark Horse Comics and Deep Silver have announced that they're teaming to bring the post-apocalyptic world of Metro: Last Light to the (digital) printed page with a preorder exclusive fans won't want to miss.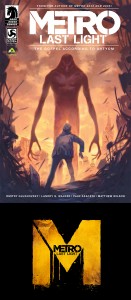 A collaboration between author (you knew Metro started out as a novel right?) Dmitry Glukhovsky and the comic publisher, the digital graphic novel will tell the tale of main character Artyom and fill in some of the blanks between the events of Metro 2033 and the upcoming Metro: Last Light.
"The Gospel According to Artyom' is in fact the last chapter of Metro 2033 and the first chapter of Metro: Last Light, linking both stories together and giving an unexpected insight on what really happened in the beginning of it all. Reading it will change your understanding of my saga," said Dmitry Glukhovsky.
Interesting idea to have the graphic novel link and really elaborate on the actual overarching storyline of the games like that. That pretty much makes The Gospel According to Artyom a 'must read' for fans of both the books and the games if they want the whole story. I love that this isn't a 'side story' or a toss away story about another character that fans may not care all that much about. Very cool stuff.
Also, just as a neat little side note, Glukhovsky actually got into Last Light's development quite a bit and contributed "a huge volume of dialog" for the game. The next book in the series Metro 2035 will be available outside of Russia this year and Metro: Last Light from Deep Silver will be out on May 14th in the US and on the 17th in the rest of the world.
The Gospel According to Artyom is available exclusively to fans who preorder the game from Steam and "other selected retailers".
Continue Reading >>> Source link