The undead are on the march… into the One:12 Collective that is. Mezco's toy line is getting a pair of rotters, straight from Dawn of the Dead.
Braaaaaaains
Mezco showed off these two zombies a while back, but now they're finally up for pre-order. And they're not being sold singly, but as a two-pack. That's a first for the One:12 Collective, which till not has only sold figures as single boxed editions and that Ghostbusters four-pack.
Being that these two guys don't really have a lot packed into the box though, it's very understandable. Not to mention, it's preferable, since you won't be paying a premium price to add just one of them to your collection. Cool stuff.
These zombies are of course from Dawn of the Dead, the seminal Romero zombie classic of a film. They're also famous from the zombie museum, which I had no idea even existed.
Both zombies clawed their way into the public consciousness from their appearance in George A. Romero's groundbreaking horror film, Dawn of the Dead, where a group takes refuge to make humanity's last stand against a horde of zombies swarming the U.S. Although their actual screen time was fleeting, their influence on pop culture is long-lasting. Life-size figures of the two characters flanked the entrance to the Monroeville Zombies Museum in the Monroeville Mall, the primary shooting location of the film.
Up for pre-order right now, the two-pack is set to ship out in quarter one, 2019. It'll run you $130 USD. Personally, I'm not a zombie fan, but I'm thinking about getting a set just to have my One:12 Ash posed with…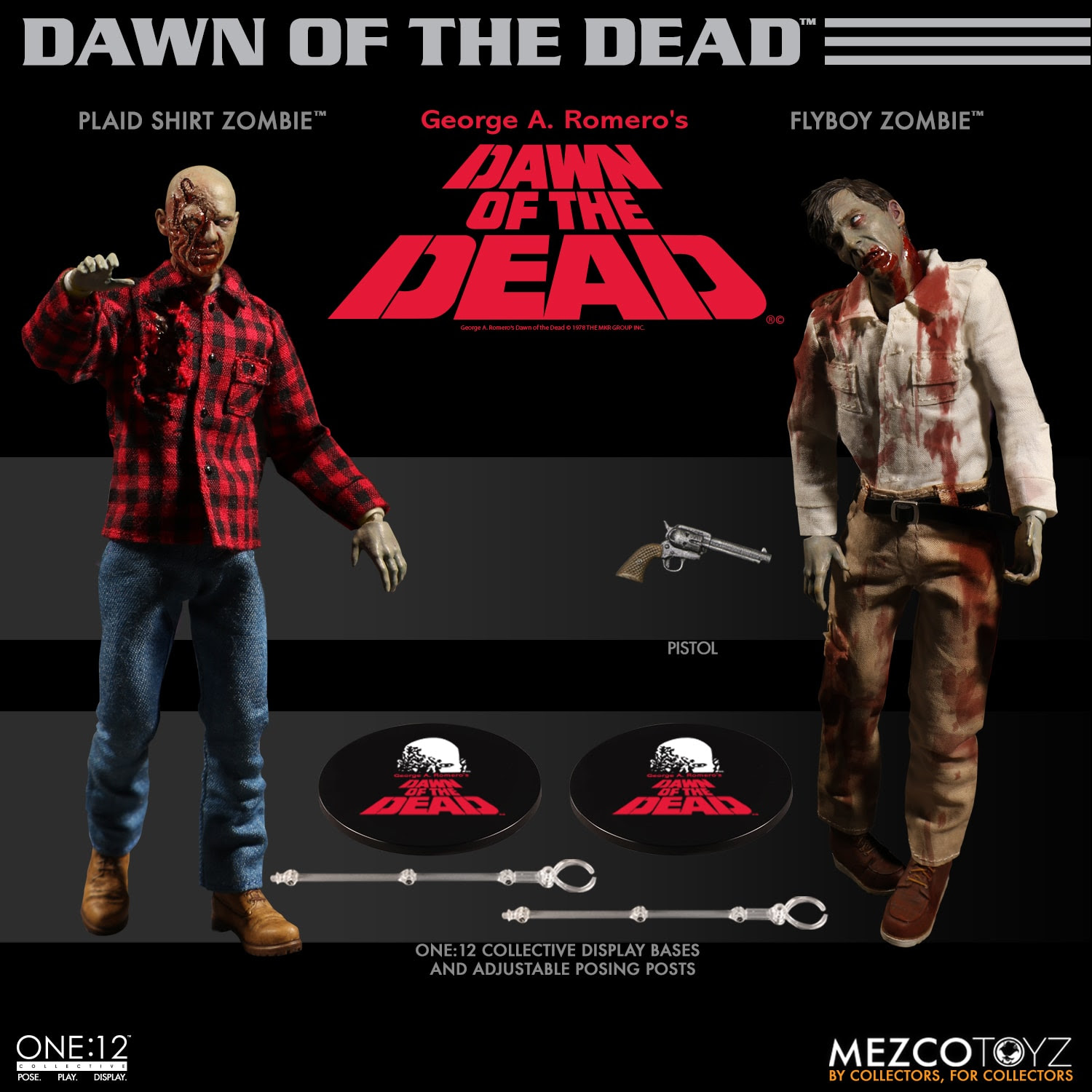 Here's what's included:
THE ONE:12 COLLECTIVE DAWN OF THE DEAD FIGURES FEATURES:
One:12 Collective body with over 28 points of articulation
One (1) head portrait
Hand painted authentic detailing
Approximately 17cm tall

Flyboy Zombie ~16.6cm
Plaid Shirt Zombie ~16.7cm

Two (2) interchangeable hands

One (1) set of posing hands (L&R)
COSTUME:
Flyboy Zombie

Button down workmen's shirt
Belt
Workmen's pants
Wedge work boots

Plaid Shirt Zombie

Flannel shirt
Jeans
Work boots
ACCESSORIES:
Flyboy Zombie

One (1) pistol
One (1) One:12 Collective display base with logo
One (1) One:12 Collective adjustable display post

Plaid Shirt Zombie

One (1) One:12 Collective display base with logo
One (1) One:12 Collective adjustable display post
Each One:12 Collective Dawn of the Dead Boxed Set is packaged in a collector friendly box, designed with collectors in mind.
Continue Reading >>> Source link