The mobile app of everyone's dreams allows pre-registration on February 17th.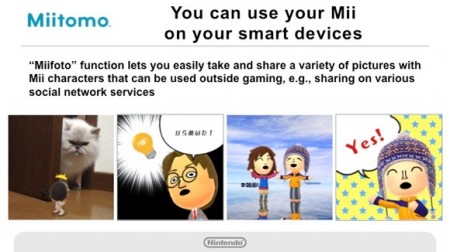 The first of five "smart device applicants" Nintendo plans to launch by the end of March 2017, Miitomo is probably exactly what everyone asked for when they asked for Nintendo to release the most popular properties on mobile.  It's a game (in so far as communication is a game) featuring Nintendo's most popular Italian plumber (in so far as you can make a Mario Mii) and it's almost here.
Those who preregister for the app of their dreams will be the first to be notified of the game's launch, and will receive a "special Miitomo bonus."
Joking aside, Miitomo actually seems like a pretty nifty conversation starter.  It asks players questions (ranging from "What is your favorite hobby?" to "If you saw a nose hair sticking out of your friend's nose, what would you do?"), and their answers will be shared with friends, in the hopes of sparking fun conversations people might normally have.  Ideally, the app will help you learn things about your friends (things you may or may not have wanted to know) that will serve as a use to you.  Perhaps you'll have a new buddy to take to the driving range, or perhaps you'll have some fresh new information with which to blackmail your frenemies.
You'll even get to take "Miifotos" using your smart devices camera to put your Miis into awkward, unsavory, and unsolicited positions.
"Miitomo is a uniquely entertaiing mobile experience that only Nintendo can deliver," said Scott Moffitt, NoA's Executive Vice President of Sales & Marketing.  "Featuring Mii characters, users will be able to interact with their friends in an entirely new way that transforms communication into a form of play."
More information about Miitomo is expected to be available in the coming weeks.
Continue Reading >>> Source link