866 Views
Matt Kindt and Dark Horse Comics have announced that the critical darling will have a 36 issue run with a brand new arc to begin with issue 13.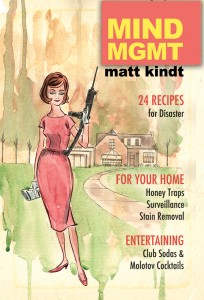 Mind MGMT is all about twisting the truth (and your brain) every way but the way you'd think it'd head and keeping readers off balance. Writer Matt Kindt promised at WonderCon this past week that you ain't seen nothing yet as the upcoming new story arc is set to amp up the weird. Big time.
Beginning in Mind MGMT #13, Mind Management itself will be invading the sleepy suburbia that plays home to sleeper agent Home Maker. Will she be able to keep up her cover, or will she be outed in the series of one-shot stories that begins in lucky number thirteen?
Find out what happens and just how odd things get when Mind MGMT #13 hits stands in July.
Continue Reading >>> Source link