Yeah, really.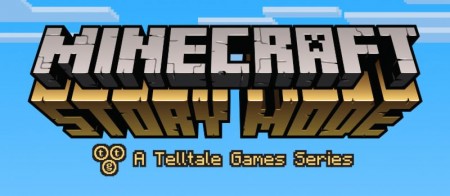 Yeah, just… I don't know. I need a minute. Here's some stuff that Telltale and Mojang had to say about the new collaboration while you wait.
"Partnering with Mojang is a dream come true for us as game makers and as storytellers," said Kevin Bruner, President and Co-Founder of Telltale Games. "Minecraft is a world of infinite possibility and imagination. Working with the Mojang team on our own unique, story-driven interpretation of their fascinating universe is a tremendous honor. We simply cannot wait for fans across the world to take off with us on this new adventure."

"People really like the idea of stories about Minecraft, but forcing a narrative into our core game experience would restrict players' freedom to view the world in their own unique ways. Instead, letting them explore an alternate interpretation via Minecraft: Story Mode, driven by the proven might of Telltale, seems like a no-brainer," said Owen Hill, Chief Word Officer at Mojang. "We're big fans of Telltale Games at Mojang, and we can't wait to reveal more details on Story Mode soon."
'Story driven' is something definitely new for Minecraft, as the game has none. Even thought there's a main character (Steve), the whole play experience is about exploring the world and building stuff, and there's never been an emphasis on anything else. In fact, there isn't anything now either, as Mojang basically says that there's no narrative that's set to be forced onto the base Minecraft game. So just because Telltale will be crafting some story to fit into the Minecraft universe, don't expect to see it pop up in an actual Minecraft game… From Mojang, I mean.
As usual with Telltale's games, Minecraft will be an episodic adventure title and will be appearing on every platform under the sun, including the Xbox One, PS4, Xbox 360, PS3, PC, and Mac, as well as Android, and iOS on the mobile end of things.
No other details are hanging around at the moment, though we do know that you can expect to see Minecraft: Story Mode arrive in playable form some time next year.
Continue Reading >>> Source link