Gaming mouse maker Mionix has pumped out a number of well-made mice over the years. Their latest, the Castor, looks to improve right-handed ergonomics while upping the ante on processing time and tracking.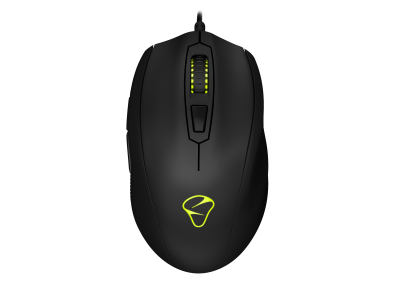 PC gamers like ergonomic mice and keyboards, that's just kind of a fact. I know myself, when I'm looking for something that I'm going to be using to play games for hours on end, it better be comfortable. And that's what the new Castor mouse is looking to provide, a little comfort.
The mouse sports a shape that supports the palm, claw, and fingertip-grips. It's also got a dedicated pinky and ring-finger support groove, which I think is pretty unique among mice. Not just good looks though, the Castor also sports a "gaming grade" optical sensor and a maximum speed of "more than 5.45m/sec (215 IPS), all the way up to 10000DPI".
Here's your feature set:
Five fingers, one home: Right-hand ergonomics with ring- and pinky-finger groove to comfortably place all five fingers on the mouse.
Maximum grip: 4 layers of rubber coating and the optimized textured side rubbers ensure maximum grip and soft touch feel.
Lightning fast processor: The 32bit ARM Processor running at 32Mhz is the powerful engine to power it all and ensure trouble free and quick setting changes in-game.
128kb built-in memory: Bring your settings and recorded macros with you stored into up to different 5 profiles.
Zero- Acceleration Sensor with up to 10000DPI: 1:1 Tracking, no positive or negative hardware acceleration.
In-game 3 step DPI adjustment: Set 3 DPI values and switch easily between them in-game.
Looking to pick one up for your gaming setup? The Castor is set to arrive at retail this September and will cost you $69.99 USD.
Continue Reading >>> Source link