Marvel's kinda-crazy hero Moon Knight is approaching his landmark 200th issue. And he's doing it in style with a special David Finch cover.
An extra special issue deserves an extra special cover, and Marvel is excited to reveal a new variant cover for MOON KNIGHT #200 from a superstar artist known for one of MOON KNIGHT's most acclaimed runs, David Finch! With colors by Frank D'Armata, Finch returns to Marvel to bring his memorable talent to one of Marvel's grittiest and most unique characters.

Don't miss MOON KNIGHT #200, in comic shops October 24th!
Shining bright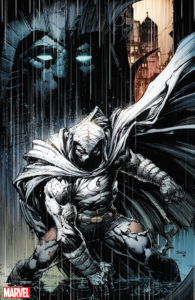 Moon Knight has become steadily more and more one of Marvel's "grittiest" over the years. The hero was initially not all that different than any other, even with his quirks. At this point though he's pretty well unhinged, bordering on deranged in some of the books I've read of his. That's not necessarily a bad thing, since some of those adventures have been pretty darn compelling.
Artist David Finch's work has been a big part of one of those excellent runs too. Now of course he's back, and ready to deliver a suitably iconic cover illustration for the all-important #200.
A pretty cool image, Finch's cover will have Moon Knight front and center, with the city behind him. Maybe the coolest part of it though, is the ever-present visage of Konshu looming over him. That's the Ancient Egyptian god that Moony gets his powers from.
Watch for Moon Knight #200 on the racks just in time for Halloween – October 24th.
Continue Reading >>> Source link