Just in time for Halloween, Universal's classic cadre of beasties is going to get another chance to sink their collective fangs into retail shelves courtesy of Diamond Select Toys.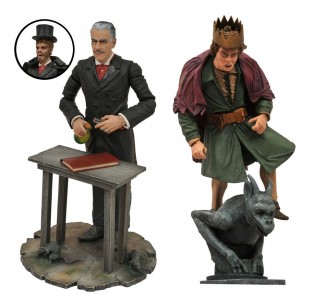 Diamond has had an excellent slate of offerings over the years featuring the imagery and likenesses of the most well known roster of monsters of all time. We're talking classic classic here like Frankenstein, The Wolfman and Dracula.
As for the newest in the line, you can expect to see both Lon Chaney as Quasimodo (from The Hunchback of Notre Dame) and Boris Karloff as Dr. Jekyll (from Abbott and Costello Meet Dr. Jekyll and Mr. Hyde) terrorizing your local shop. The Jekyll figure is especially standout here as he includes parts to make him into Mr.Hyde. These gruesome guys will also be joined by the previous entries in the set: Dracula, Frankenstein, The Mummy, The Creature from the Black Lagoon, The Metaluna Mutant and the Phantom of the Opera. All stand in at 7″ tall, come complete with a selection of accessories and display bases, and will be in stores late September through October.
As for Toys R Us, they'll be getting their usual assortment of exclusives from DST including a Quasimodo that includes a stone base instead of the gargoyle that comes with the standard version and a Mr.Hyde that leaves out the Jekyll parts and includes a cool rooftop base instead of the laboratory table that's packed with the comic shop edition. TRU also gets an exclusive character in the form of a Mole Person from 1956's The Mole People.
You can also expect to see an exclusive item in comic shops as the Universal Monsters Legacy Series Box Set will be in stores this October as well. That set will contain special gray-scale repaints of last year's figures, including: Phantom of the Opera (masked), the Invisible Man and the Metaluna Mutant from This Island Earth.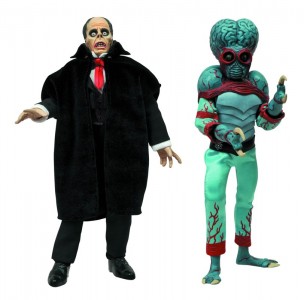 And if all those aren't enough monstrous collectables for you, you'll also want to check out the 8″ Retro Action Figures Series 4 that'll be available right with the rest of the classic creeps this October. This set features the Universal Monsters in the Mego style with cloth costumes. Expect to see both The Metaluna Mutant and the Phantom of the Opera arriving in both specialty stores and Toys R Us'.
While you're buying all these action figures, don't forget that there are some new Universal Monsters Vinyl Bust Banks in stores for October too. Standing 7″ tall, these make for great piggy banks or just cool shelf decor and come in either Bride of Frankenstein and Lon Chaney, Jr. as the Wolfman styles.
And if that's not enough Universal Monsters stuff for you, well, I can't help you.
Continue Reading >>> Source link