Remember the Ripley figure from the 90s 'animated' Aliens toy line? Well, NECA does.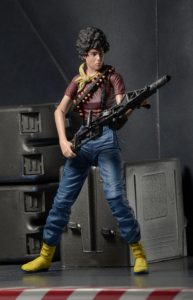 I remember the figure that this one is based on very well, and this new Ripley from toy-maker NECA is the spitting image of the Kenner original. Chances are that, if you're an Alien fan, you remember it (along with the rest of that legendary line) too, as Kenner's vision of the mythos and the characters was pretty far from the actual source material.
Not that that's the company's fault mind you, they were all based upon the animated TV series called Operation: Aliens. Yes, there was a cartoon series based on Aliens set to debut in the 1990s (which you can read about here), but it sadly never got off the ground. The designs lived on though, in the form of the toy line, which is where this version of Ripley hails from.
Clad in a very different jeans and t-shirt ensemble, Aliens hero Ellen Ripley comes complete with a neckerchief and a smartgun, the likes of which she definitely didn't use in the film series. Yeah the cartoon was definitely its own thing. Its own cool thing, but still.
NECA has a bunch of Aliens figures heading to retail in this same style, but Ripley here will only be available this week (while supplies last) in Toys R Us and Hastings stores, and on the TRU website. Sort of. The listing on NECA's site noted "while supplies last" for the website availability, and they're actually already sold out. So, sorry if that's the route that you'd have preferred – to the brick and mortar for you!
You'd still better hurry though if you want in on Ripley, as the figure will be available this week only at physical TRU's and Hastings'. Then she'll head back into hypersleep, never to be seen again. Maybe. Who knows. This round though, that's all you get.
Continue Reading >>> Source link