Say 'hi' to the all-new and much older version of the heroic T-800, as well as the villainous T-1000, from the upcoming Terminator Genisys.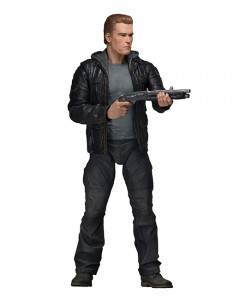 It's not too big of a secret that NECA makes some of the coolest toys out there. It's also a pretty common piece of info that they've made some wicked Terminator toys in the past. Currently, they have a phenomenal-looking T-800 from T2 on the way in their Ultimate line, and a series of figures based on the upcoming Terminator reboot in the offing.
And that latter series is what we're looking at today, as the company has revealed the first official pics of both old Arnie (Guardian T-800 'Pops') and the new T-1000 from the film. No matter how you feel about the movie itself, you'd have to admit that both figures look pretty darn awesome. That likeness of Schwarzenegger is spot-on… though I've come to expect nothing less from NECA.
Each figure stands in at 7″ and will feature an awesome 25 points of articulation, as well as appropriate accessories and alternate body parts. So for anyone who wasn't all that impressed with the company's past Terminator figure articulation, these are for you. As for when they're set to hit stores and online retailers, it's probably a safe bet to figure on July, as that's when Terminator Genisys will debut in theaters.
Continue Reading >>> Source link