Toy-maker NECA has a reputation of making some incredible stuff for collector's to display on their shelves, and that's been getting true for video game fans as well with the company's various gaming series'. The latest addition is Dante from pre-reboot Devil May Cry, and man is this one awesome looking demon-hunter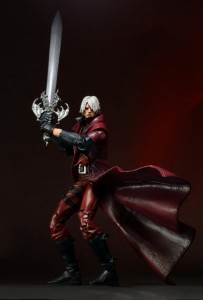 Packaged in the now famous video game styled box that NECA has been using as of late, the Devil May Cry box looks like the original video game carton, with a few notable exceptions. For starters, it's way chunkier, since there's a figure in there and not a game disc. And then if you look real close, all of the 'game' mentions have been replaced by talk about the actual figure, with the screenshots even being replaced by pics of the toy. NECA does such an awesome job on this stuff, and it's as true for this release as any other.
As for the figure itself, well, it's Dante all right. Packed with his Ebony and Ivory pistols (complete with removable muzzle-flashes), interchangeable hands, a shotgun, and his sword Alastor, the red-clad monster killer is ready for action. And he'll be poseable in just about any action stance that you can think of too, since this 7″ figure has a stunning 35+ points of articulation. Pretty impressive, and not something that you see too often from any company.
Dante is ready to be added to your collection right now, and can be found at toy retailers and online shops right now. You can read a bit more about him on the official NECA toy page here.
Continue Reading >>> Source link