Joining the Classic Video Game Appearances line, and jumping off the NES and into a NECA Toys box is the T-800, as seen in the Terminator 2 video game.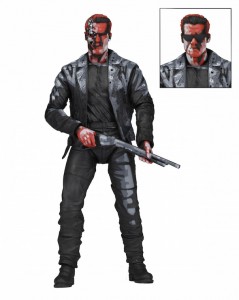 And Arnold character gets the plastic treatment yet again from NECA, as his classic look from Terminator 2 is relocated in this upcoming figure from the company. Not just any version of the T-800 though, this figure is the characters as he appeared in the NES video game tie-in to the film. And if you're familiar with what NECA has been doing in this line to date, then you know that you should probably get excited.
Far more than just a repaint of an already existing figure, the Classic Video Game Appearance line is a painstakingly reproduced line of toys that perfectly replicates the appearances of the selected characters from the original video games. And that goes right down to the packaging too, as the boxes for the figures pay homage to the original game boxes.
So far, we've seen characters from everything from the Sega Master System (Rocky) right up to the PS2 (Dante from Devil May Cry), but by far the most well-represented console is the NES. The lion's share of figures are based on games from Nintendo's landmark console, and that includes the Terminator here.
Patterned after the 1991 NES edition of Terminator 2: Judgement Day, this T-800 uses the excellent 'ultimate' body-type (with 30 points of articulation), and a pair of interchangeable heads to show either his standard, sunglass-wearing look, or his battle-damaged visage.
The figure won't be available to add to your collection till April of this year, but you can check out some more shots of him in all his pixely glory on NECAs site, right here.
Continue Reading >>> Source link