I think this might be a "first of its kind" kinda thing, and it sounds pretty darn cool. Insight Editions has a variating frame of mind with its latest tome – DC Comics Variant Covers: The Complete Visual History.
Visual variation
Variants are nothing new in the world of comic books. The covers are a mainstay, which may have dipped out for a while, but are back in a big way now. If you somehow don't know what variants are, it's a pretty easy explanation.
A variant cover is an alternate cover illustration, that differs in (usually) a major way from a book's "standard" edition. Sometimes you'll get one or two variants for a single issue, and sometimes you'll get a ton more. It kind of depends on the impact of the book too. The bigger and more important stories tend to have more covers. And while some companies (like Valiant) tend to produce variants for almost every issue, most publishers print off just one piece of cover art per issue.
But the bottom line is that variants are a big part of the industry, and one that doesn't seem to be going away permanently any time soon. Today, that is.
Celebrating the changing times
Years ago, the landscape was much, much different. Growing up in the '80s, there was nary a variant to be found. The cover was the cover, and picking and choosing between extra editions that showcased your favorite star-artist wasn't an option.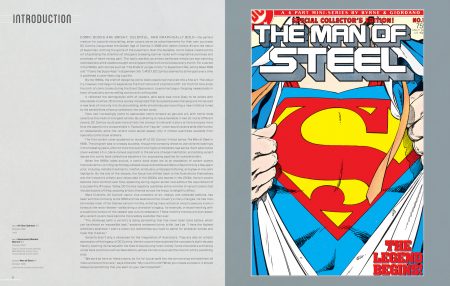 But all that changed in 1986, and that's what DC Comics Variant Covers: The Complete Visual History is all about. In 1986, DC Comics published a variant cover to Man of Steel #1, and that cover plus a ton more are collected in this new book.
More than just imagery though, this particular book also has many a fact included. The Complete Visual History is packed with "insight into the design process from leading comic artists and industry experts." So you'll get to learn about these covers and their makeup, not just gawk at 'em.
And yes, it even has a variant cover. While the standard version has the slick Neal Adams cover that you see above in the header, the variant will have one by Frank Cho. That special version can be had via your local comics shop only, and will be distributed by Diamond.
Both versions of DC Comics Variant Covers: The Complete Visual History will ship out this very month however. Watch for the book on April 24th. It'll run you $45.00 USD.
Check out the gallery below to get a taste of what's in the pages.
Continue Reading >>> Source link