Fans of Marvel's current cartoon universe are in for a treat with wave 2 in stores and a wave'2.5′ on the way.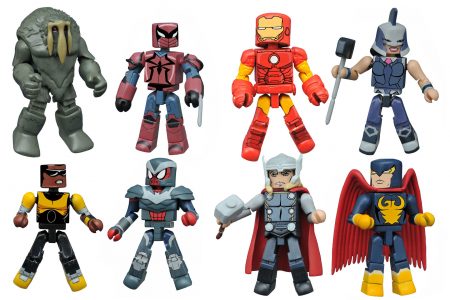 Taken from across Marvel's modern slate of animated shows (on Disney XD), the diverse wave of characters that you see above are set to become available in Walgreen's stores this Summer sometime. Also as you can see, four brand-new characters, never seen in plastic before, are included in with this freshly announced wave 2.5.
Here's your breakdown:
From Marvel's Avengers Assemble, Thor will come packaged with the Squadron Supreme's Nighthawk. This is the first Minimate of Nighthawk ever made! Thor will include an alternate hair piece and his hammer Mjolnir, and Nighthawk will feature a removable mask.
Also from Marvel'sAvengers Assemble, Iron Man faces off with the Squadron's Power Princess. This is the first poseable figure of Power Princess ever made in any toy line! Both characters' helmets are removable, and Power Princess will include her hammer and an alternate hair piece.
From Marvel's Ultimate Spider-Man, SHIELD Armor Spider-Man comes with his teammate Power Man! Spider-Man comes with a blaster, and Power Man includes an alternate head with a new facial expression.
Also from Marvel's Ultimate Spider-Man, the medieval hero Spyder-Knight teams up with Man-Thing, one of SHIELD's Howling Commandos. These are the first Spyder-Knight and Man-Thing Minimates ever made!
While you can grab the above two-packs this Summer, we did say that there's a series hitting as we speak. In your local Walgreens either now or very soon (they started shipping) are "Gamora and Drax from Marvel's Guardians of the Galaxy; Iron Spider and Taskmaster from Marvel's Ultimate Spider-Man; and Black Widow, Thanos, Dark Thor and Dark Iron Man from Marvel's Avengers Assemble".
Each set mentioned will be sold in the usual two-pack fashion too, so keep that in mind as you plan out your purchases. One of the things I like most about Minimates is the twofer style of packaging. It's pretty easy to build up a sizable (and cool-looking) collection in no time, and not spend a ton of dough doing it.
Continue Reading >>> Source link