If series co-creator Ed Boon's Twitter is anything to be believed, a new Mortal Kombat installment is set to be officially announced this coming Monday.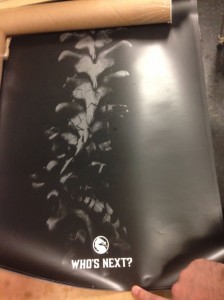 Should we call it 'Mortal Monday'? Ed Boon has been teasing at something that NetherRealm has been working on for weeks (if not months) on Twitter. The game director has dropped hints for both a sequel to the blockbuster DC Comics fighting game Injustice and a new Mortal Kombat, but it looks like we finally have confirmation for one of those and it'll be announced a lot sooner than you might think.
Not waiting for E3 (does anyone anymore?), Boon has Tweeted and re-Tweeted several times, the image you see to the right via his account. He's also changed his Twitter avatar to match the new white MK logo emblazoned on the poster in the pic, which is about as official as it's going to get till Monday, June 2nd. While there's still no 'official' announcement from either NetherRealm or Warner Bros, it does look like a tenth MK installment is definitely in the works and will be making an appearance in some form this Monday.
Who's Next? We'll find out very soon…
Source: GameInformer
Continue Reading >>> Source link