Like so many nails in a coffin, another new dose of downloadable content has arrived for Nordic Games' Painkiller Hell & Damnation.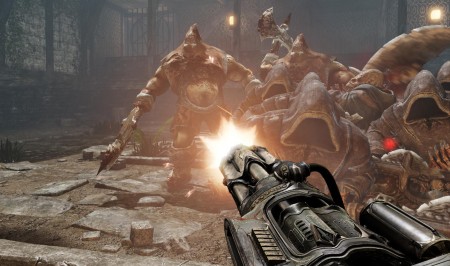 The fourth piece of content for Painkiller HD, Full Metal Rocket brings new multiplayer maps, skins, a new weapon and some new baddies to blast. Also thrown in with all that is a brand spankin' new play mode called Survival that features its own leaderboards- so you can see who amongst your buddies would last the longest in an all out demonic assault.
All in all, here's what you get in the pack:
Three classic multiplayer maps now shine in their HD glory including new gameplay options: Meatless, Blink, Mines suited for different modes (Survival, Deathmatch, Team Deathmatch, Capture The Flag), featuring the new Survival mode style
New Survival mode: single player Survival mode with dedicated Leaderboards: play with limited ammo, and avoid being killed to gain access to weapon lockers and to proceed to the next area
One new HD Survival map: Town
One new HD map for all multiplayer modes: Prison
New multiplayer skins: SS Zombie and Leper
New enemies: Executioner and Beast
New weapon for multiplayer mode: Mine
Also of note today for Painkiller fans is the DLC Bundle 1. The bundle packs all four DLC offerings together in a… bundle. You can grab that for the PC right here on Steam. Or, if you have some of those already and just want Full Metal Rocket, you can get just that by clicking here.
Continue Reading >>> Source link