Sequential Pulp has announced that they'll be publishing Edgar Rice Burroughs classic Jungle Tales of Tarzan in the form of a brand new graphic novel.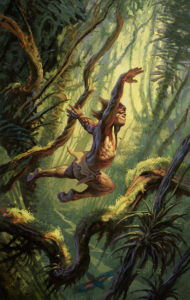 If you're a fan of the ape man, then you probably know that Dark Horse Comics actually handles his comic and graphic novel adventures. You're probably also asking yourself how Sequential Pulp got the rights. Well, the answer's easy- Dark Horse distributes SP. They're a graphic novel imprint of the company that specializes in classic works of fiction and literature. Pretty cool.
They're latest will be a 100+ page tome penned by Martin Powell (who's done work for pretty much every major comic publisher since 1986) and based on the Jungle Tales of Tarzan novel by Burroughs.
The one hundred and forty four page graphic novel will be authorized by ERB, Inc. through Sequential Pulp's distribution arrangement with Dark Horse Comics. The book will be designed as an anthology collecting the twelve loosely connected short stories written by Edgar Rice Burroughs chronicling the life of his most famous character, Tarzan of the Apes. All the events of the original work take place within chapter eleven of Tarzan of the Apes between Tarzan's avenging of his ape foster mother's death and his becoming the leader of his ape tribe. The original stories ran in Blue Book magazine from September 1916 through August 1917 prior to the book's publication in 1919.
As far as pencil work, there's an ace group on board to paint the visual picture for you. Darren Bader will be doing the cover and 'specialty art' (which is gorgeous by the way- take a peek at the promo art above) with interior work done by (deep breath)Pablo Marcos, Terry Beatty, Will Meugniot, Nik Poliwko, Antonio Romero Olmedo, Mark Wheatley, Diana Leto, Steven E. Gordon, Lowell Isaac, Tom Floyd and Jamie Chase.
Each story in the graphic novel is scheduled to run a dozen pages and the book will be published in full color. If you're a collector, you also might want to be on the lookout for the limited run 'signature' deluxe edition of Jungle Tales of Tarzan that'll be out there right alongside the standard version.
There's no release date yet, but we'll keep you posted. While you wait, might we suggest taking a look at our review of the 11th volume of the Tarzan series 'The Jesse Marsh years'? If you're looking for classic, pulpy adventure – you can't do much better.
Continue Reading >>> Source link