May 30, 2019
3DS, News, Nintendo, Nintendo Switch
584 Views
Cats with mech suits? That seems like one of those things that could go either way. Gato Roboto nonetheless highlights what's a pretty dim week.
Domo
There's not much to get excited about in this week's Nintendo Download. Sure there's the somewhat GameBoy-like Gato Roboto, but that's it for spotlighted games, and the rest of the list isn't looking too great either.
Have a look for yourself.
Nintendo eShop on Nintendo Switch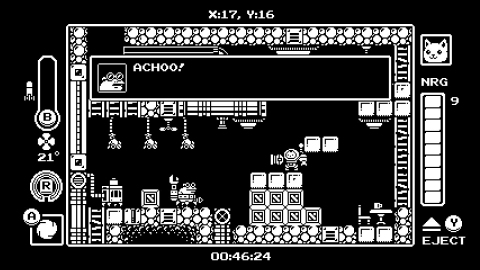 Gato Roboto – Pounce inside of your cozy armored mech and set off on a dangerous trek through an alien underworld full of irritable creatures and treacherous obstacles in a valiant effort to save your stranded captain and his crashed spaceship. Tiptoe outside the friendly confines of your technological marvel and follow your feline instincts through tight tunnels and mysterious waterways to scavenge for new weapons and gear. Adventure awaits the most curious of cats in Gato Roboto! 
Nintendo eShop sales: 
Nintendo eShop on Nintendo Switch, Nintendo 3DS and Wii U
Also new this week in Nintendo eShop on Nintendo Switch: 
Also new this week in Nintendo eShop on Nintendo 3DS: 
Continue Reading >>> Source link