August 22, 2019
News, Nintendo, Nintendo Switch
483 Views
It's a pretty solid week this week in the Nintendo Download. Superhot and the Hotline Miami Collection arrive, along with a bunch of smaller releases.
Super hot!
I probably wouldn't call this a week of "blockbusters" for Nintendo and the Switch, but it's pretty good nonetheless. There's a nice spread of games, fitting multiple tastes.
Not only do we get runaway indie hits Superhot and Hotline Miami Collection, but there are also fresh titles falling under the Sega Ages and virtual NES games.
Nintendo eShop on Nintendo Switch
SUPERHOT – Blurring the lines between cautious strategy and unbridled mayhem, the SUPERHOT game is the FPS in which time moves only when you move. No regenerating health bars. No conveniently placed ammo drops. It's just you, outnumbered and outgunned, grabbing weapons off fallen enemies to shoot, slice and maneuver through a hurricane of slow-motion bullets.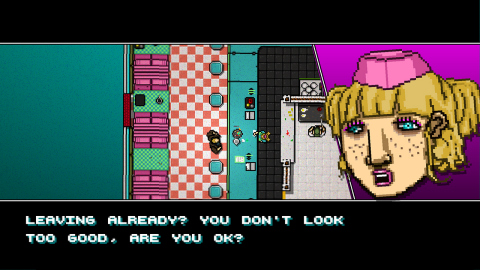 Hotline Miami Collection – The Hotline Miami Collection game contains both games in the neon-soaked, brutally challenging Hotline Miami series from Dennaton Games.
DRAGON QUEST XI S: Echoes of an Elusive Age – Definitive Edition – Demo Version – You are the Luminary, the hunted hero who will protect the land from destruction in the latest RPG from the iconic DRAGON QUEST series. With a ragtag band of adventurers, you'll engage in well-balanced, turn-based battles and embark on quests across the kingdom of Erdrea. Try out this free demo before the game launches for the Nintendo Switch system on Sept. 27. You can even carry your progress to the full game.
Nintendo Entertainment System – Nintendo Switch Online*

Kung-Fu Heroes – Monsters have taken Princess Min-Min and the 10 treasures of the land, and the people have fallen into sorrow. Only Kung-Fu Masters Jacky and Lee can save the princess and retrieve the treasures. Their journey will take them to eight different castles filled with hosts of traps and obstacles. Use punches and the Miracle Kick to defeat the enemies. You will need quick wits and lightning reflexes to make it to the last castle.
Vice: Project Doom – There exists a group of undercover detectives who dare stand up to the evil in the world… They are known as Vice. Officer Quinn Hart, a member of Vice, is on the case and after the truth. High-speed car chases, action-packed battles employing three types of weapons and a mode with three 3D rail-shooting stages all bring this cyberpunk world to life.
Nintendo eShop sales:
Nintendo eShop on Nintendo Switch, Nintendo 3DS and Wii U
Also new this week in Nintendo eShop on Nintendo Switch:
* Nintendo Switch Online membership (sold separately) and Nintendo Account required. Not available in all countries. Internet access required for online features. Terms apply.nintendo.com/switch-online
Continue Reading >>> Source link