Headlined by an amazing looking NES flavored console, the good old 3DSXL is getting a trio of new looks.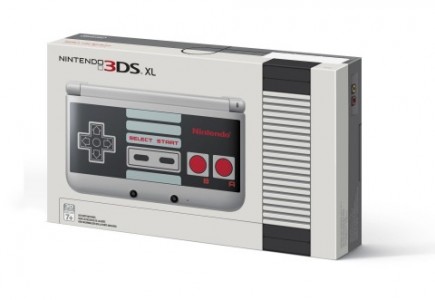 "More than 12 million systems in the Nintendo 3DS family have been sold in the U.S. alone," said Scott Moffitt, Nintendo of America's executive vice president of Sales & Marketing. "These new models give shoppers even more choices during the holiday shopping season. Based on past experience, these special editions likely won't stay on shelves for very long."

"We expect these new special-edition designs to be in high demand," said Michael Turner, director of merchandising at GameStop. "Nintendo 3DS is a great kid-friendly gaming device with excellent games, and we are pleased to share that these new designs are available for pre-order starting today."
Oh is that a tempting little handheld right there. Chances are that, if you're a handheld gamer, you've already got a 3DS. Even so though, Nintendo has a way of producing repaints and re-decos that can pull fans in for a second (or third…) console. Decked out to look like an NES controller (and with a box that mimics the actual NES console), this definitely counts as one of them. A GameStop exclusive item, you won't have to wait too long either to grab one, as they'll be hitting the stores this coming October.
The NES Edition Nintendo 3DS XL isn't the only new 3DS on the way either, as there'll also be a very nice looking Super Smash Bros system on the way as well as a Persona Q edition unit. All three will be hitting from September through November and all three will cost you $199.99 USD at retail.
Here's your full breakdown of what's in the boxes:
Super Smash Bros. Edition Nintendo 3DS XL:Red and blue systems go on sale at retailers nationwide on Sept. 19 in honor of the Oct. 3launch of the Super Smash Bros. for Nintendo 3DS game. The cover of the new hardware features a dozen of the game's characters, including Mario, Link, Samus and Little Mac. The systems will be available at a suggested retail price of $199.99 each. (The Super Smash Bros. for Nintendo 3DS game is sold separately.)
NES Edition Nintendo 3DS XL: This cool-looking GameStop exclusive goes on sale Oct. 10 at a suggested retail price of $199.99. The hardware is modeled after Nintendo's iconic NES controller and the box looks like an NES system.
Persona Q Edition Nintendo 3DS XL: In honor of the Nov. 25 launch of the ATLUS role-playing game Persona Q: Shadow of the Labyrinth, GameStop will be the exclusive retailer for thePersona Q Edition of the Nintendo 3DS hardware. The design evokes the essence ofPersona Q with the iconic Grimoire styling on the front – the tome used by the attendants of the Velvet Room and containing information on the many Personas – and the new style of character art represented on the back. It will be available at a suggested retail price of $199.99. (The Persona Q: Shadow of the Labyrinth game is sold separately.)
Continue Reading >>> Source link