DST brought some very cool new Minimates, a pair of new Marvel 'Mego style' box sets, and two new additions to the Marvel Select series.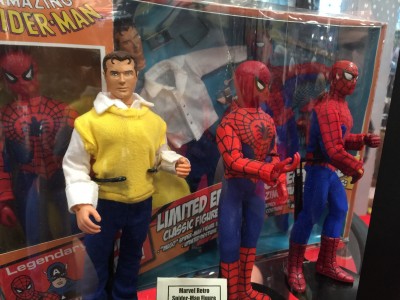 For DST fans, there was plenty to like at this year's NYCC, which took place at the Javits Convention Center in NYC this past weekend. Not only was there a plethora of Marvel Comics stuff on display, but the TMNT and Aliens Minimates series were also in attendance and looked just as good as it did at SDCC this past July.
The toy-maker expanded its Marvel Retro series, which is modeled after the classic Mego superheroes line of the 1970's, with Wolverine and Spider-Man sets, both of which looked outstanding. Each set includes a secret identity figure, a classically styled figure, and one made to look like the modern version of the character. Great stuff.
Also on hand were Minimates based on Infinity, the X-Men: Days of Future Past feature film, and classic (Liefeld) X-Force. All of 'em looked as good as you might expect and will more then likely be vying for space on your shelves sometime soon. Finally, the company brought the excellent looking Cable Marvel Select figure back out for display (coming soon) and a phenomenal Carnage fig. This bad boy looks to be just as heavily detailed as the Venom figure that was released in 2013 and comes with maybe more in the way of accessories.
Hit the gallery below for all this and a bit more, and give a serious look to that Carnage, it's probably the best figure of Cletus I've seen.
Continue Reading >>> Source link