New York Comic Con will host an exclusive based on one of Valiant Comics' deadliest superheroes- Bloodshot. So what is this exclusive? A teddy bear.
Teddy-shot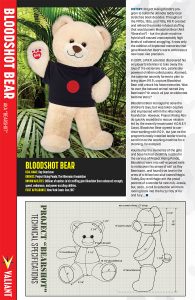 So this is a new one. While it's common to see all kinds of collectibles based on comic book characters, a teddy bear isn't too… well you don't really see it. For a nanite-enhanced killing machine though, he is kind of a cute little guy. And stunningly happy.
As mentioned, the bear is an exclusive to Comic Con, and will be very limited in scope with only 250 pieces made. He'll be sold at the Valiant Comics booth (#1635) and was actually made by none other than Build-a-Bear. That's a company that's no stranger to stuffed animals, or licensed properties for that matter. BaB has gotten into a couple of things like this over the last few years.
Though I think Bloodshot might be the most violent comic property adapted to a soft and cuddly format yet. That's probably why you won't find this little guy anywhere other than NYCC.
Complete with branded tee, Bearshot also includes a carry case, and an exclusive Bloodshot Salvation #1 Bear Photo Variant. So you actually do get quite a bit for your $40 USD.
Continue Reading >>> Source link