Warning! Challenger approaching! Sakurai has confirmed that Olimar is back for another round of Super Smash Bros.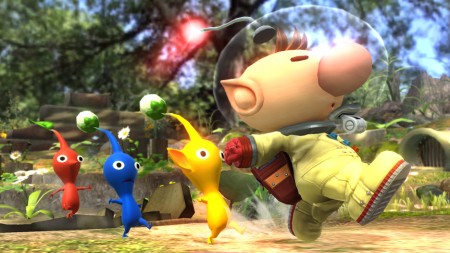 Alongside the announcement of Captain Olimar's return, a new stage has been confirmed for the latest installment of the Super Smash Bros series. Also accompanying the reveal of his triumphant return is a batch of new screenshots showcasing Olimar and pikmin in action.
From the shots that have been provided, you can already tell how beautifully done the stage is. Not to mention Olimar himself is looking great in his new coat of HD. Everything, from the gear on his suit to the fabric is shown in great detail. What we can also see is Olimar battling it out with other characters as he mercilessly assaults Fox, Bowser, Mario, and even Megaman with various pikmin in tow.
The reveal is mostly likely a commemoration of Pikmin 3's release in Japan on July 13th. Although that doesn't mean the surprises should necessarily stop there, as the western release of Pikmin 3 has yet to come. We may very well even see footage of the Olimar in action in the near future, so be on the look out for more to come in the next few weeks.
Continue Reading >>> Source link