Ready for a deluge of new features?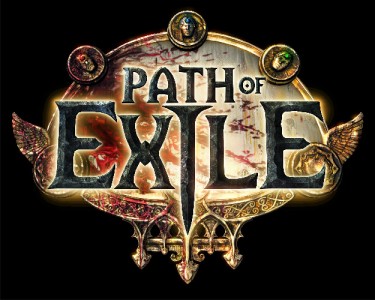 Grinding Gear Games' free-to-play (but not pay to win, as they point out) online action/RPG Path of Exiles is getting a pretty big bump in features and general 'things to do' this week with the launch of two new 'Leagues'. The Leagues, called Anarchy and Onslaught, are both pretty different and each offers a new challenge for players in the current open beta.
In the Anarchy League, gamers will encounter and potentially face off against computer controlled Exiles (player characters). Why is this so interesting? Because these Exiles have the powers and abilities of actual player controlled characters- which could be kind of nasty should you meet up with one.
In Anarchy league, the corruption of Wraeclast has overtaken the minds of many exiles, which players will occasionally encounter on their journey through the world of Path of Exile. These depraved individuals should be treated with caution, as the computer-controlled rogues can deploy the skills and items of player characters with deadly force.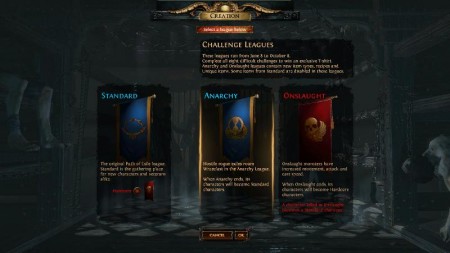 The second new mode is Onslaught. This one is for those players who thought the 'Hardcore' setting too easy. That wouldn't be me, but hey…
Offering increases to monster attack, cast, and movement speeds, Onslaught league has been crafted specifically for players that found Path of Exile's existing Hardcore league to be too easy. Onslaught league will function somewhat like a lighter version of the game's Turbo races, except it will last for four months.
Coming along with those new modes are eight new challenges. These challenges can (mostly) be done in either one of the new Leagues and are really for players who want to "master" their League. The pair of League exclusive additions are going to be particularly challenging to complete before the open beta finishes up on October 8th.
The eight Challenges are:
Slay the 13 rogue exiles (Anarchy only).
Reach level 60 on each character class (Onslaught only).
Use a Map of every type in the Map Device.
Allocate all of the notable and keystone passives.
Receive 34 specific items from vendor recipes.
Full-clear each non-Map area in any difficulty.
Use all currency items (excluding Mirror of Kalandra).
Own a specific set of 90 Unique items at the same time.
With the addition of all this, Grinding Gear Games will also introduce a bunch of new monster abilities and re-balancing that will see players shift their focuses from 'life' to armor and defensive capabilities. So expect a good deal more strategic combat there I imagine. You'll also see (I told you there was a lot of new stuff) a new currency form with the rare Eternal Orb, new on-screen lifebars for enemies and allies, and an Australian and New Zealand portal into the game world that should help Down Under players get into games quicker and smoother.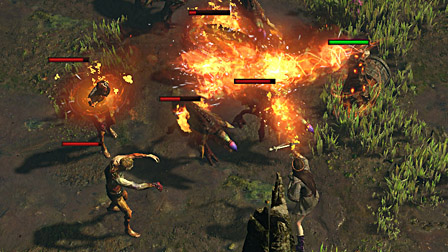 "We're extremely excited about this patch. It has taken an immense amount of effort and is really fun to play," said Chris Wilson, Path of Exile's lead designer. "If you've been waiting for a fresh league to play some new characters, tell your friends and join us on June 8. See you there!"
Sharpen your swords adventurers, the Path of Exile open beta is ongoing until October 8th with the new 'phase 2' patch going live this week, on June 5th New Zealand time.
Continue Reading >>> Source link