When you think of Dungeons and Dragons, you probably don't think of Penny Arcade. But that's just what we've got here with the new sourcebook.
Acquisitions Inc
To be fair, this new sourcebook for D&D isn't really, well, D&D. It is, in that it's based on the rule set for the latest incarnation of Wizards of the Coast's popular RPG, but it also isn't in that it's set in the world of Penny Arcade's Acquisitions Inc.
I can't say I'm too familiar with the property, but I assume Penny Arcade fans would be. And as you'll see, the sourcebook doesn't have to stand on its own either. Everything is fully compatible with other D&D games.
Here's a bit from the press release: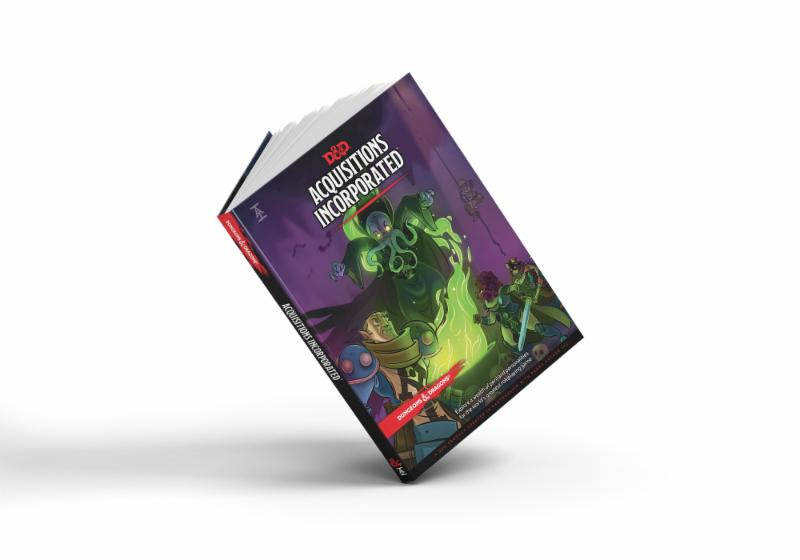 Due to a recent surge of deceased workers
 open positions, Acquisitions Incorporated is currently offering a once-in-a-lifetime opportunity to create Fan-chises™. The Acquisitions Incorporated sourcebook, compatible with the Forgotten Realms or anywhere else in the Multiverse, has everything a budding replaceable cog valued employee needs to keep themselves both profitable and alive1. 

This manual contains 224 pages of insider secrets including a never-before-seen adventure for characters levels 1-6. Franchisees can learn the ropes with this gripping tale that is 100%2 safe. Discover completely new content including new spells to master, an introduction to an all-new race, and our patented character positions to help anyone join the company and push us well into the black.

"Seeing our Acquisitions Incorporated campaign enter the canon of the Forgotten Realms is a dream come true," said Jerry Holkins, co-founder of Penny Arcade. "The book is stuffed with content for Dungeon Masters and players alike, and I can't wait to hear about their adventures."

1. We at Acquisitions Incorporated are not responsible for any bodily harm that may occur when using the manual.

2. 60% of statistics are 100% made up on the spot.

Penny Arcade press release
Acquisitions Incorporated is available right now, and will cost you $49.99 USD.
Continue Reading >>> Source link