Titanfall, the much praised title for the Xbox 360/One and PC from developer Respawn and Activision, is ready for drop in quarter 1, 2014. Celebrating the announcement, we've got a pair of videos and a peek at the Collector's Edition for your perusal.
"Since we revealed the game in June we've been absolutely blown away by the reaction to Titanfall," said Vince Zampella, a Co-Creator of Call of Duty and Co-Founder of Respawn Entertainment. "The feedback we're getting from fans around the world is fueling our team as we head towards March and motivating us to deliver an experience that lives up to the hype."
Yeah, that's probably putting it mildly as Titanfall has been heralded as the next big evolution in FPS' and a fresh take on the genre from the vets who now make up Respawn Entertainment. The game now has an official release date, which is March 11, 2014 as well as a Collector's Edition (which you had to figure would be coming).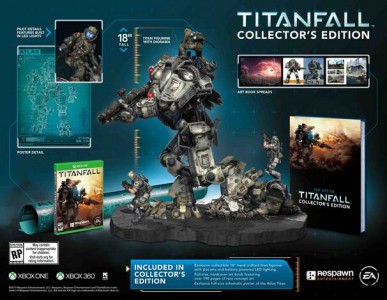 The CE is set to be priced at $249.99 USD and will include an 18″ (!), hand crafted 'Atlas' Titan statue that is based in a diorama setting with LED lighting, a full-sized (not a mini) art book weighing in at 190 pages and a big schematic poster of the Atlas. The CE is available right now for preorder.
Continue Reading >>> Source link