March 9, 2016
Action Figures and Toys, Collectables, Movies & TV, News
1,232 Views
Batman and Wonder Woman are the focus of the three new figures from Medicom Toy, and all of them will be exclusive to Previews and comic shops.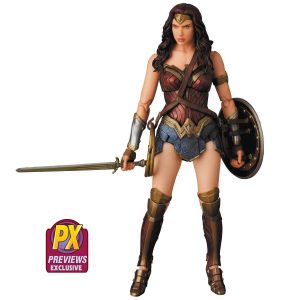 The armored version of Ben Affleck's Batman and Gal Gadot's Wonder Woman, as the appear in the upcoming Batman v Superman: Dawn of Justice motion picture, are arguably the headliners of this new wave of figures from Medicom. Why arguably? Because the third figure is modeled after Heath Ledger's Joker form the bank heist at the top of The Dark Knight movie.
Here are the listings and details:
Dark Knight The Joker Bank Robber Figure (Item Code: MAR162546, SRP $48.99)
This variation of The Joker pays homage to the reign of terror he created during his memorable bank heist in The Dark Knight. Standing at 6 ¼" with a meticulously detailed costume, the PREVIEWS exclusive figure comes with a duffle bag, pistol, and removable clown mask.  
BVS Batman Armored Figure (Item Code: MAR162548, SRP $51.99)
Batman is prepared for his face-off against Superman in this detailed armored suit. The PREVIEWS exclusive figure stands at 6 ¼" and features a poseable fabric cape, interchangeable hands and a poseable display stand. This is the perfect collector item to purchase in preparation for the film, Batman v. Superman: Dawn of Justice!
BVS Wonder Woman Figure (Item Code: MAR162551, SRP $51.99)
At 6" tall, Wonder Woman is packing her shield, sword, and golden lasso.  The PREVIEWS exclusive figure of the legendary DC Comics heroine is sculpted with exceptional precision and articulation in order to appropriately represent the character in her upcoming debut film.
All three of these figures are set to ship out in October, and all of them are also available right now for preorder via Previews magalog and  your local comics shop. Pics in the gallery below.
Continue Reading >>> Source link