If you're a Mass Effect fan, and you like awesome stuff, then you don't want to miss TriForce's Scorpion pistol.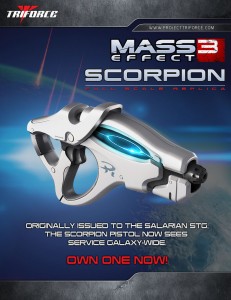 The first new announcement for their Mass Effect line in a while, the Scorpion looks like it's one of the coolest pieces that TriForce has produced to date as well. Sleek and metallic with that awesome blue effect, this pistol has every bit the detail that you'd expect from the company that's also crafted some truly stunning Halo, Borderlands, and DC Comics replicas.
And at 14″ long, 8″ high, and a whopping 10lbs, this little guy is no lightweight. As you might expect too, you will be able to switch on some awesome looking LED lighting effects on the barrel, so you can complete your perfect Mass Effect cosplay (or just have it look badass hanging on your wall or sitting next to your ME game collection).
You can pre-order one for yourself right here, right now. Just hustle. If you know anything about TriForce, then you know that runs their offerings aren't unlimited. And the Scorpion? That's set to be released at just 500 units.
Continue Reading >>> Source link