Yep it's true Quantum and Woody are sell-outs… in that the first issue of their new book is sold out at distributors yet again and on the way to a third printing.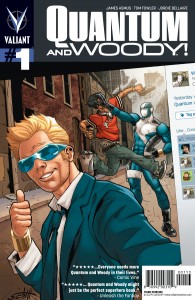 The book, which features a brotherly pair of superheroes, has already sold out twice from Valiant Comics and fans are thirsty for more. And more is exactly what they shall receive as Q&W are back with the third print run of the inaugural issue of their comic.
"This is insane! And I sincerely want to thank the retailers and fans who have been spreading the enthusiasm for the book," said James Asmus, writer of Quantum and Woody. "Everyone involved has put a goat-load of passion into making Quantum & Woody a unique and invigorating comic once again."
Printing number three of the book features (as you can see) a 'selfie' pic of the world's worst superhero team from the lens of Woody's smartphone as his brother tackles a crook in the background. I actually think this might just be the best of the three covers that Quantum and Woody #1 has so far seen. It also, by the way, will be the last.
Valiant says this is your last chance as a reader to grab issue #1 of the popular action/comedy book as the third time will be the last appearance for this particular issue at comic shops- outside of a display case anyway.
Quantum and Woody #1 (Third Printing "Selfie" Variant) arrives in stores on August 28th from Valiant Comics and the creative team of James Asmus and Tom Fowler, with cover work by Valerio Schiti.
Continue Reading >>> Source link