A second run of the popular new Valiant Comics book is being prepped for launch.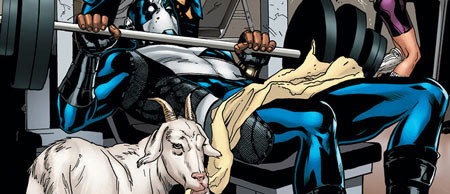 The first new offering of the second (annual?) Summer of Valiant promo, Quantum & Woody has made fans of the action/adventure/comedy/goat book extremely happy. The relaunch of Q&W has actually been such a hit that it's sold out nationwide and headed back for run number two.
"Quantum and Woody is the first title of the second Summer of Valiant initiative. It has generated an enormously positive response from fans, critics, and retailers," said Valiant Publisher Fred Pierce.

"Even with a generous overprint, Quantum and Woody #1 sold out at an incredibly brisk pace. Stay tuned, this is a book to watch and we have some big plans in store yet."
The first issue of the book will return to store shelves on August 21st with a brand new cover by Emanuela Lupacchino, whose work can currently be seen on other Valiant books like Bloodshot and Archer & Armstrong. Also hitting soon is the second issue, which'll be in stores on August 7th.
Both issues come from the creative team of James Asmus and Tom Fowler and are getting all kinds of critical praise.
Continue Reading >>> Source link