I'm not sure what's exactly happening in Dark Horse Comics newest horror series Rat God, but it's pretty darn creepy.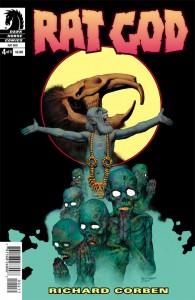 I haven't been reading Rat God since the first issue, so I have to admit that might be just the teensiest bit lost here. Still though, it hasn't been the toughest of things to catch up and recognize what's exactly happening in the world that Richard Corben has created here.
You might know Corben's name, and you more then likely recognize his work if you've been around comics for a while. I remember seeing his stuff published in Heavy Metal in the 90s, though I haven't seen his art since. And here in Rat God, it's not just his art that's involved, but his writing as well.
Yep, Corben both illustrated and wrote the twisted tale presented in Rat God, a book that's based in the works of H.P. Lovecraft himself- the creator of the Cthulhu mythos that's gotten so popular these days. It's not all Lovecraft though, that has gone into Rat God, as Native American legend plays a part too.
Basically, all you need to know is that city-dwelling Clark Elwood has travelled to the backwater town of Lame Dog (yes, that's the actual name), and is looking for his girlfriend, who's apparently gone mi. When he gets to the town, he finds a citizenry that's something less than human… they're not monsters, well not really, but kind of feral men and women. They seem limited in intelligence, which I assume plays into the 'Rat God' and what Corben is cooking up for the eventual finale.
There are two gentleman who seem otherwise unaffected by whatever is happening in the town though, a father and son. The father is a preacher of sorts, and his son Peck is a malcontent who wants his dad killed. In this fourth issue, that comes to light and he demands Elwood does the deed. He just might too, as the dandy has he young woman Clark is in love with and she'll meet a terrible fate if he declines the 'job'.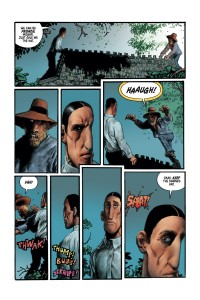 That's more even than I would have liked to have said about the plot, I hate spoilers and try not to give away too much in a review, though I will add that Peck is mysteriously terrified of rats…
As you can probably tell, the story has a lot going on. It wasn't the easiest to catch up on, though not too terribly difficult either. So if you haven't read the first three issues and are just tuning in now, you can figure our what's happening, though I'd still recommend that you go back and grab those missing pieces before you tear into issue 4.
Still though, the book is so well written that you don't have to go back if you don't want to. I love the dialog too, as Corben has an apparent knack for writing mundane talk into extreme situations and having it all seem perfectly normal.
His art, which I believe he's way more known for, is kind of an acquired taste to be honest. It's radically different than almost anything else out there and has a cartoony look, but one that's three-dimensional in nature. I wasn't really a fan, though I do have to say that it did grow on me quite a bit in Rat God.
Final Thoughts
As someone who's not really a horror fan, isn't the biggest Corben fan, and doesn't really give a hoot about Lovecraft in any major way, I was genuinely impressed by what's happening with Rat God. It's an interesting book with a story that seems like it's poised to take off in a big way.
There is some nudity and gore that I wasn't expecting, so keep that I'm mind if you're picking it up, but I'd definitely recommend you take a look at Rat God #4 (actually, probably numbers 1 through 3 as well) if you're into creepy, unknown-type horror.
Continue Reading >>> Source link