The rhythm game/guitar trailer is on the way for this Holiday season.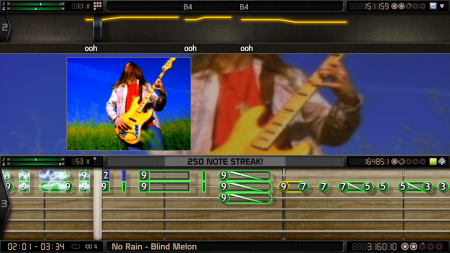 Developer Realta's BandFuse: Rock Legends sets players up with a hardline connection from their (real) guitar, bass and microphone into their video game consoles for a game that promises to teach you as much about making music as it does let you have a good old time playing it. Featuring 55 tunes in total from artists like Slash, Maroon 5, Rush, The Strokes, Heart and Pearl Jam, BandFuse presents a four-player co-op mode that actually allows players to jam together, and maybe even actually learn to play, under the tutelage of actual rock-royalty.
The unique BandFuse: Rock Legends animated tablature (tabs) interface simplifies the learning process for novice musicians while enabling advanced musicians to perform songs as the artists intended. All players will benefit from Shred U mode, a simple-to-use, comprehensive training tool with a vast selection of instructional tutorial videos from seven rock legends including Slash, Bootsy Collins, Zakk Wylde, George Lynch, and Five Finger Death Punch. Along with the legend videos, players will have a host of drills, scales and the ability to tweak song settings allowing mastery of even the most challenging songs.
As for buying into the game, there's a trio of options for you to choose from:
The Artist Pack ($69.99 MSRP) includes the BandFuse: Rock Legends game and 1/4" to USB guitar cable (Xbox 360 also contains an Audio Adapter and headphone extension cable).
The Band Pack($79.99 MSRP) includes two guitar cables, a microphone, multi-port instrument hub, and an acoustic guitar adapter.
The Guitar Bundle includes the BandFuse: Rock Legends game, guitar cable, and authentic Fender Squier guitar (MSRP to be announced at a future date).
Ready to rock? BandFuse: Rock Legends plays its first set on the Xbox 360 and PS3 on November 19th.
Continue Reading >>> Source link