Sure Captain America and Iron Man might not be seeing eye to eye in the new Civil War film, but the two superheroes are two sides of the same car in Jakks Pacific's newest RC toy.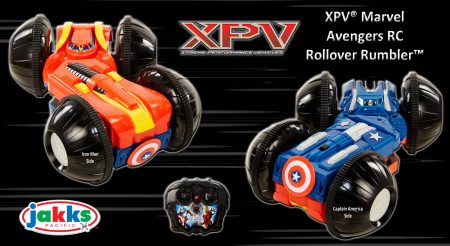 Jakks has a history of producing some pretty nifty toys, and this is certainly one of the more interesting in form, if not function. You might have seen RC cars or trucks that can flip over and keep on driving after all, but you generally don't see them with Marvel branding. Actually, when you think about it, the XPV Marvel Avengers RC Rollover Rumbler is pretty much two toys in one.
On the one side, you get the Sentinel of Liberty himself – Captain America. On the reverse though, you have the Armored Avenger, Iron Man. Which side will you display more? Well, that's up to you, though chances are that you'll see both a lot since the radio-controlled vehicle is made to tumble over and flip, yet keep on going.
I guess it's kind of like the Avengers themselves in that sense, since the team might battle internally, yet always manages to come together once again to give evil a fat-lip. Just in time for the film release, the XPV Marvel Avengers RC Rollover Rumbler is available right now in stores and will run you $49.99 USD.
Continue Reading >>> Source link