Artist/writer/creator Sam Keith's Maxx hasn't been seen in a decade. But the way-out hero is about to make a shocking return, and crossover with DC's Batman while he's at it.
To the Maxx
"Doing a Batman and Maxx crossover is like a family reunion with my favorite brother and our really cool cousin," says Sam Kieth. "You never want it to end… or at least I hope you won't!"
There are two pretty big deals here in this announcement. For starters, The Maxx is back. Why is that important? Mainly, because creator Sam Keith has had the hero mothballed for around ten years. Before that, specifically in the 90s, The Maxx was a hit for Image. If I remember correctly, he was even a part of the now-defunct Image superhero universe.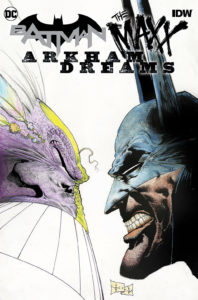 But now he's back, emerging from IDW. The future for the character there is unknown, but it's good to see a classic back once again regardless.
"It's always a pleasure to work with Sam Kieth," says editor Scott Dunbier. "He puts his heart and soul into his art, and gives you something truly unique in the process. We can't wait for people to see this!"
Of course, the second big deal here is that The Maxx is crossing over with Batman.
Inter-Company crossovers aren't all that common these days, but DC and IDW have something of a relationship. The two publishers have worked together a few times already, for Batman/TMNT stuff. So there is a precedent. Though bringing back The Maxx and pairing him with Batman might be a bigger deal. After all, he's way less popular than the Turtles, and was so even at his height as a hero. This is a lot more niche of a move. I'm not sure if "risky" would be the right word to use, but that's what's popping into my head.
So what's the setup? Well, as you might imagine when talking about The Maxx, it's weird. That, and pretty cool too.
When a devious new doctor at Arkham Asylum conducts unconventional forays into the human psyche, he kicks off a disastrous chain reaction by experimenting on Arkham's newest patient: The Maxx! The city of Gotham soon begins to merge with the Outback, The Maxx's psychedelic mental landscape. It's up to Batman to save Gotham and all of reality… but only by joining The Maxx on a trip into the darkest depths imaginable: the twisted minds of Batman's greatest enemies!
Watch for Batman / The Maxx: Arkham Dreams on the racks some time soon.
Continue Reading >>> Source link