J.J. Abrams mind bending show Fringe is headed back to the Science Channel- who's up for a marathon?!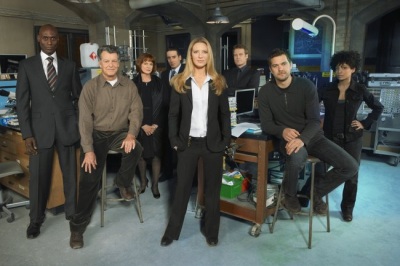 Fringe is one of those shows that's smart, cool, and weird all at the same time. And while the show was pretty popular while it was on the air, I'd wager it'll be even more so now that its penultimate season is headed into repeat showings on the Science Channel.
In season three the FRINGE team escapes from the parallel universe – except for Olivia who is trapped in the other world and replaced in ours by her double. It's her double who turns Peter and Olivia's tentative relationship into a love affair. When Olivia returns the bonds of trust fray while ever more bizarre and terrifying phenomena occur, and secrets that stretch back to 1985 threaten to destroy our universe or the parallel universe.
Fans might want to just go ahead and block out the whole weekend too, as Science will be broadcasting all 22 episodes of season 3 with a two day marathon. Day one starts on April 13th at 9am ET/PT and runs through to 8pm ET/PT, then you'll want to head back to the sofa on the 14th at 9am ET/PT and watch another 11 episodes of the ground-breaking show through to 8pm on that day.
That's a lot of Fringe and should definitely help soften the blow now that the show's completed its run. Although… when you think about it, there has to be another universe out there where Fringe is still on the air right? Maybe one where it's become the longest running show in history!
The possibilities are, as they say, endless…
Continue Reading >>> Source link