July 15, 2013
Movies & TV, News, SDCC
999 Views
20th Century Fox has announced their lineup of show exclusive items including a very cool X-Men 'Adamantium Collection' of all six of the comic book characters big screen films. Also in the cards is an X-Files panel that no fan will want to miss.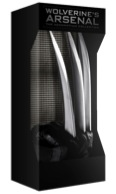 There's actually a whole bunch of cool stuff to buy aside from the Adamantium Collection incuding an 'It's always sunny in Philadelphia' bobblehead and an exclusive Sons of Anarchy T-shirt. There's a bunch of other stuff to see and do as well, but maybe the crown jewel is tha X-Files panel.
The happening reunites David Duchovny, Gillian Anderson and show creator Chris Carter for a 20th anniversary (!) look back at the show that became a phenomenon. If you're going to the Con and you're an X-Files fan, that's one not to be missed as it may very well be the last time all the big players from the show are in attendance together.
Here's your listing of events outside and inside of the Fox booth, complete with locations:
You gotta pay the Troll Toll for your "Almost Trollfoot™ sized" Danny DeVito bobble head figurine, celebrating season eight of "IT'S ALWAYS SUNNY IN PHILADELPHIA"
Pre-order the limited edition X-MEN "THE ADAMANTIUM COLLECTION" featuring all six X-MEN films on Blu-ray including THE WOLVERINE in exclusive "claw" packaging
The boys of SAMCRO have you covered with a limited edition "SONS OF ANARCHY" Season Five t-shirt along with an exclusive "R.I.P. Opie" temporary tattoo designed by Tracy Anderson who does all the ink for the popular FX series
Dun dun dahhh! Pick-up the exclusive "Belt" character plush toy from THE CROODS
Be the first to buy the first season of DreamWorks "DRAGONS RIDERS OF BERK" before its July 23 debut and also pick-up the limited edition "Toothless" toy
Fan favorites from the Fox and MGM catalog will be available as limited edition Blu-rays featuring exclusive Comic-Con 2013 artwork:
Sci-Fi: THE FLY (1958 Blu-ray available for first-time-ever), THE DAY THE EARTH STOOD STILL and PLANET OF THE APES
Horror: CARRIE, CHILD'S PLAY and THE SILENCE OF THE LAMBS
Cult: FIGHT CLUB, THE BOONDOCK SAINTS and DONNIE DARKO
The truth is out there! Join David Duchovny, Gillian Anderson, Chris Carter, Vince Gilligan and more as they celebrate the 20th anniversary of "THE X-FILES" with a special panel on Thursday, July 18 at 3:30pm in Ballroom 20
Dr. Krieger is patrolling the streets of San Diego in his "Van By Night," transporting fans to Downtown destinations in celebration of the Season Four release of "ARCHER"
Get a sneak peak at the upcoming gore-fest FRIGHT NIGHT 2 with a Comic-Con exclusive flash drive featuring the all-new trailer and more for the film starring Jaime Murray
Continue Reading >>> Source link