Cheetara and Snarf will be present and accounted for at the San Diego Comic Con this July. Classic 'Cats fans should be very happy with what Mezco's cooking up with their 'Mega Deluxe 2-Pack'.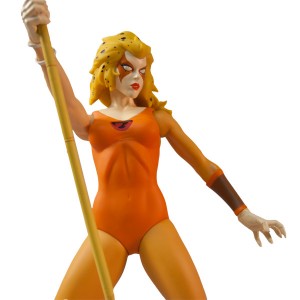 Cheetara and Snarf Deluxe 2 Pack

This mega scale multipack features Cheetara, the Thundarian noble who is as lovely as she is brave and cunning, and Snarf, the much beloved sidekick of the Thundercats.

This exclusive version of Cheetara features glow in the dark eyes; superbly detailed, with 10 points of articulation, perfectly capturing not only the iconic look of Cheetara as she appeared in the classic television series, but the essence of Cheetara as she proudly wields her signature bo staff in defense of her comrades.
And, as you can see from the shots, that little ball of fur Snarf is right at the Thundarian warrior's side. Snarf stands (or sits) in at 5″ tall and Mezco promises that he "snarfs a snarfity snarf snarf" even in figure form. Whether that's a good thing or not is up to you, but this set is most definitely a good thing if you're a Thundercats fan- new or old.
Look for the Cheetara & Snarf Mega Deluxe 2-Pack to be available in collector friendly packaging at the SDCC this July. Head over to Mezco Toyz' booth (#3445) on the show floor to snag one for yourself.
Continue Reading >>> Source link