This year, Warner Brothers official show bag will be pretty super indeed. Mainly because it has a cape.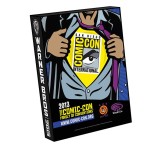 Warner Brothers has sponsored the complimentary bags for showgoers for quite a few years now, but this year's model is a little bit different than what's come before.
For starters, the bag will be fashioned into a backpack from the start. That's a big improvement that I can tell you I'm personally pretty happy to hear. Usually, fans have to mangle their bags into makeshift packs that never quite look… 'right'. Well, they don't for me anyway.
Improvement number two comes in the form of a cape. Yes, a cape. You can wear the cape on the pack, all by itself (my favorite option) or just the pack- the choice my friends is all yours. More than 130,000 of the double-sided, full color bags have been made for pass holders at this year's SDCC- and believe me, they'll need every last one of them.
We've got pics of some of the properties that'll be making an appearance on the totes in the gallery below, as for the rest; here's what you can expect to see (and drag around with you) when Comic Con kicks off this coming Thursday night:
Continue Reading >>> Source link