River finds herself back at the Serenity, though things do not bode well for the crew. What does she have in store, find out in Serenity #4.

Check out our write up of Serenity #3 here
Raging River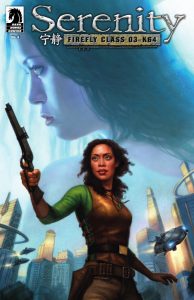 There's more than one flavor of trouble heading for Mal and his crew. River returns to the Serenity, but she's not quite the River they've grown used to. Everyone is glad to have her back. Though she's quiet and reserved again. Like the way she was when we were first introduced to her. And she brought a friend. River's friend however, is now who she seems to be. Before they know what happens, she lays out Jayne while River takes down Zoe and Kaylee.
Nearby, Inara and Simon are inside the Alliance Planetary Offices, still looking for their exit. Bea and Inara disagree on the best course of action, and Simon offers his usual softshoe opinion, when 'scree'.
River and her new friend are still making trouble aboard the Serenity. Jayne and Kaylee are quickly dealt with, and Zoe is able to escape before they shut her up as well.
Mal's Misconceptions
Mal and Maricourt are able to pick up Inara and Simon before the Alliance have the chance to. Anyone who is familiar with this franchise will know that, nothing is normal with Mal and his team. There is some firefighting that ensues, and Bea finally has a chance to shed some light on what Maricourt really has planned.
We learn more about what goes on in this world around them, and begin to see the true Maricourt, and where Mal is planned to fit into everything. However we see the strength behind the Captain, and even a different side of Zoe. It is not uncommon to find Simon suprised by his crewmates, though it is refreshing to see some of m with differing opinions than what we have come to expect.
Scattered Serenity
So now the crew must rescue one of their own, as well as their first priority persona. Add to that the rogue element within Mericourt's party who knows just enough to be a problem. How will Mal bring things around this time? He's come up with some masterful plans by the seat of his pants before. Though at what cost? And will the team be able to reconcile afterwards? We will have to wait until Serenity #5 to learn more.
Serenity #4 arrives in stores January 25, 2017. Don't miss your chance to follow Serenity.
Serenity #4
Writer: Chris Roberson
Penciller: Georges Jeanty
Inker: Karl Story
Colorist: Wes Dzioba
Cover Artist: Dan Dos Santos
Continue Reading >>> Source link