Valiant follows its big Summer relaunch event with the debut of an all new Shadowman. Supernatural superhero shenanigans!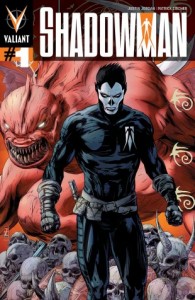 Reading Shadowman on and off when Valiant first ran with the character years ago, the idea always struck me as kind of cool and I actually made a few attempts to dig in. I remember playing the game for the N64 too- it actually wasn't bad. As far as a deep understanding of the character though, I don't have one and for some reason it never 'clicked' with me.
Fortunately, you really don't have to be all that familiar with Shadowman to start reading the new book. That's because, while this is definitely a continuation of the previous story lines, it's also a brand new man in the role of the main character and so it essentially comes off as a brand new comic.
The book focuses on Jack Boniface, the son of the original Shadowman. Jack's on his own without either parent and searching for whatever information he can find on them. He never knew his dad and his mom died at an early age, so he knows basically nothing about them and zero about Shadowman.

An amulet that he wears around his neck is all he has of them. It was a possession of his father's given to him by his mother and he's never without it. That all changes as the story unfolds in issue one though as Jack finds out some disturbing things about his parents; it's major stuff that changes the direction of his life in more ways than one.
Speaking of 'disturbing', I was genuinely surprised by the amount of horror elements that writer Justin Jordan worked into Shadowman. For a superhero book there's a decent amount of monsters and gore. To be fair, most of that has to do with a big pile of demonic, living meat called Mr Twist. Yeah, you read that right.Meat aside, Jordan's script crafts a really solid base for what's to come and you can sort of get a feel for what promises to be a pretty dark book. I was vibing everything from Hellboy to Swamp Thing and Ghost Rider in Shadowman- and that's all a very good thing by the way.
Painting the visuals are the talented pencils of Patrick Zircher and boy does he do a fantastic job here. It's a seemingly strange mix of traditional superhero and horror imagery, but much like the plot line, it fits the bill quite nicely.
Twist is a standout in the visual department, as he's really the most wonderfully vile thing in the story. Zircher does an excellent job with him and his (eventual) minions. The other real standout 'set piece' in Shadowman is the otherworldly assault at the top of the book. The creatures have a fantastic design and the colors just pop off the pages- really excellent stuff and a treat for the eyes.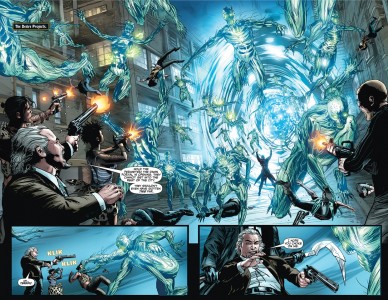 Final Thoughts
The bottom line on Shadowman #1 is that it's a very solid book. First issues can be a tricky affair but I think anybody who's into superhero and/or horror comics will most definitely dig this one. Boniface makes for a compelling hero as he's sort of had the role forced onto him (you'll see what I mean) and never had any intention of having fighting demons in New Orleans make up the bulk of his life.
As far as the rogues gallery goes, Mr Twist is great ( in a horrible way) and I'm looking forward to seeing more of the mysterious puppet-master, Master Darque, as well as whatever else creeps out. It'll also be interesting to see just how Shadowman fits into the Valiant Universe on the whole.
Keep 'em coming Valiant, you're batting a thousand so far.
Continue Reading >>> Source link